Benefits
Our comprehensive compensation and benefits programs reflect our belief that attracting, retaining, and rewarding our employees is at the core of who we are as an organization.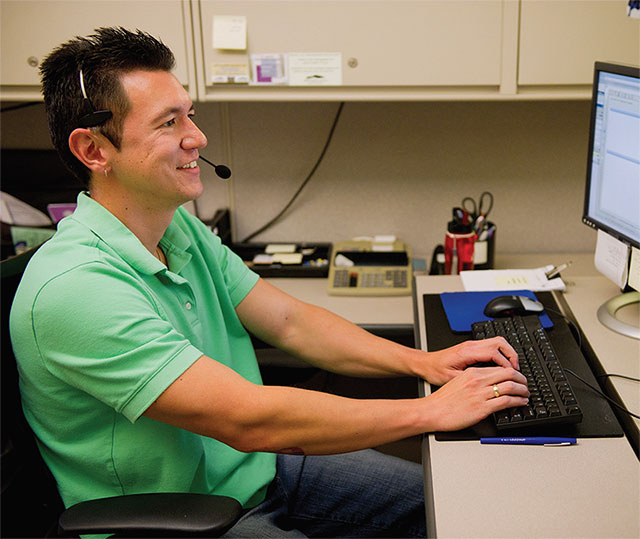 We approach creating a fulfilling and meaningful career at Colorado Springs Utilities with the following core principles:
Competitive Compensation
Commitment to performance management
A dynamic and collaborative coaching process, tied to compensation
Pay recognition for various levels of skill, knowledge, experience and performance and increases are managed through an annual merit process.
On-the-spot honors for noteworthy accomplishments.
Our benefits program strives to stay relevant, affordable, and is designed to help you navigate your individual needs. We understand that benefits are so much more than just health and dental, our plans are designed to support you no matter what life may bring.
Medical, Dental and Vision Insurance
Medical
Colorado Springs Utilities offers three choices for health insurance. With three plans to pick from the options have been designed to meet your unique situation.
These three medical plans give you three great options to navigate healthcare. From saving money in an HSA for future medical expenses, to low co-pays there is a plan for your current situation.
Our insurance partner is CIGNA, which gives us incredible access to a large group of in-network doctors.
Dental
While nobody loves going to the Dentist we hope with two plans to pick from and a great network of dentist we can take away some of the pain.
Coverage includes 100% covered 6-month visits for routine/preventative services. The plans include coverage for basic services such as fillings and periodontal, major services such as crowns and implants, and orthodontia benefits. Our plans are through Delta Dental of Colorado.
Vision
Anthem Blue View Vision, which has one of the largest nation-wide networks provides our vision coverage. With a selection of experienced ophthalmologists, optometrists, opticians and retail locations you will be seeing much clearer that Colorado Springs Utilities is the place for you.
Spending and Savings Accounts
We get it nobody wants to pay more taxes than they need to. We have paired our plans with a variety of savings accounts to do just that. Don't worry it's all legal, we checked.
Health Care Spending Account (HCSA) – Pay pre-tax for qualified medical expenses. The best part is the money is available for those expenses up front and you pay it back (pre-tax) over the year.
Dependent Day Care Spending Account (DCSA) – If you have childcare expenses for daycare you can use this account to pay for the expenses pre-tax.
Health Reimbursement Account (HRA) – Colorado Springs Utilities funds this account to help you pay for out-of-pocket expenses. These funds are earned by participating in the voluntary wellness program.
Health Savings Account (HSA) - An HSA is a tax-advantaged health care savings account paired with the High Deductible Health Plan (Saver Plan). This account allows you to save tax free along with a contribution from Colorado Springs Utilities, for current and future medical expenses.
Disability Insurance
Short-term disability (STD) is partial income replacement, designed to bridge the gap when sick leave is exhausted and long-term disability (LTD) benefits would begin. This helps you financially navigate those expected or unexpected times when working isn't possible, due to a health matter.
LTD begins after 180 days of disability. This plan can begin after the STD benefit has ended, just in case recovery is taking a little longer than expected.
PERA also offers disability programs once the employee becomes vested (5 years of service credit).
Life Insurance
Basic life/accidental death and dismemberment (AD&D) and Life Essentials Services are available to employees and eligible dependents. Life insurance coverage is 100% employer paid for 1.5x your salary, with affordable options to buy up to additional coverage.
Work-life balance
We understand how difficult it is to manage both a career and a personal life. We provide solutions to reduce barriers of effectiveness caused by work and personal life challenges in order to maximize employee contributions over the course of your career, which we think makes things a little special.
Flexibility
Alternative work schedules help us ensure to address both business needs and, personal needs. Examples include 4-day workweeks; alternative start times; and part-time positions.
Tuition Reimbursement
Our Educational Assistance Program provides reimbursement up to $5,250 each year for tuition for career development courses or for courses part of an Undergraduate or Master's Degree Program. We've got you covered, but no, we aren't doing your homework for you!, and courses must have a reasonable relationship to Colorado Springs Utilities business and be approved in advance. Employees are required to have 12 months of service before using this benefit program.
Employee Assistance Program
We offer employees and any member of their household confidential and convenient access to life management resources through our Employee Assistance Program (EAP) at no cost. Services include financial or legal services, identity theft services, tobacco cessation coaching, dependent care and daily living resources.
Long-Term Care Insurance
Designed to provide financial assistance in case care is needed in a long-term care facility, at home or another similar place such as a nursing home. You, your spouse as well as both you and your spouse's parents and grandparents (whether natural, adoptive or step), siblings and children (minimum age 18) are eligible to participate and receive monthly benefits for a three to five year duration or an unlimited duration depending on your election. This plan is fully paid by the employee who elects to buy coverage.
Paid Time Off
Vacation
Employees accrue paid vacation for years of continuous employment with Colorado Springs Utilities. You can earn 13 to 24 days of vacation each year depending on your length of service. Part-time employees earn vacation time as a pro-rata share of the full-time accrual.
Vacation Buy
Vacation Buy enables employees to buy up to an additional week of vacation above their annual accrual and any carryover amount. The vacation you buy is paid for through payroll deductions over the year on an after-tax basis. Purchased vacation buy is added to your vacation accrual balance and is subject to Colorado Springs Utilities' carry-over policy.
Holidays
Colorado Springs Utilities provides employees with ten paid holidays each year plus three personal leave days.
Sick Leave
Employees accrue sick leave for hours worked at the rate of up to 3.6924 hours per pay period (12 days per year) for full-time employment. Part-time employees accrue sick leave hours as a pro-rata share of the full-time accrual.
Voluntary Wellness Program
This benefit is more than just eating kale and apples, we encourage you to be your best you. With access to paid personal training through the YMCA to partnering with CIGNA on your wellness journey. By participating in the wellness program, you can earn funding towards your out-of-pocket expenses when using your health plans.
Colorado Springs Utilities prides itself on being engaged in the community we are live and work in. We offer many organized opportunities to volunteer individually and as a group in the community. Click here for more information about the Community Focus Fund outreach program and our support for local educational and non-profit organizations.
Retirement
Colorado Public Employees' Retirement Association (PERA)
PERA provides retirement and other benefits to employees at Colorado Springs Utilities. PERA qualifies as a bona fide fringe benefit, thereby exempting employees from paying into the Social Security system. In lieu of Social Security coverage, PERA provides benefits to you when you retire or are disabled or to your family after your death. In addition, PERA members may take advantage of voluntary programs offered such as life insurance, a 401(k) plan, Roth 401(k), and long-term care insurance. As a PERA member, you contribute a percent of your monthly salary to your PERA member contribution account and Colorado Springs Utilities contributes an additional percentage into your member account. Refer to the disability insurance section for more information on disability coverage through PERA.
International City Management Association (ICMA-RC)
Through ICMA-RC, employees can contribute to a Vantagepoint No-Fee Roth IRA, 457 plan, or a 457 Roth plan directly through payroll deductions. The Roth IRA is one of the best ways to grow your savings for retirement. Both the Roth IRA and the Roth 457 provides investors with the opportunity of a lifetime to build retirement assets without ever owing any taxes on the earnings, the ability to withdraw earnings tax-free and penalty-free withdrawal options. With the 457 plan, employees have the benefit of a convenient savings tool, an immediate reduction in their taxable income, tax-deferred growth and penalty-free access to their assets upon separation. The 457 plan also allows higher contributions than a Roth.